The Longevity by Design Charrette, an industry-wide workshop created to challenge the future of senior living won the research category at the 2020 Future of Ageing Awards.
A joint initiative of UQ's Healthy Ageing Initiative and DMA Engineers, with support from Paynters and Redland City Council, the charrette brought together 121 people from more than 60 private and community-based organisations, government bodies and educational institutions.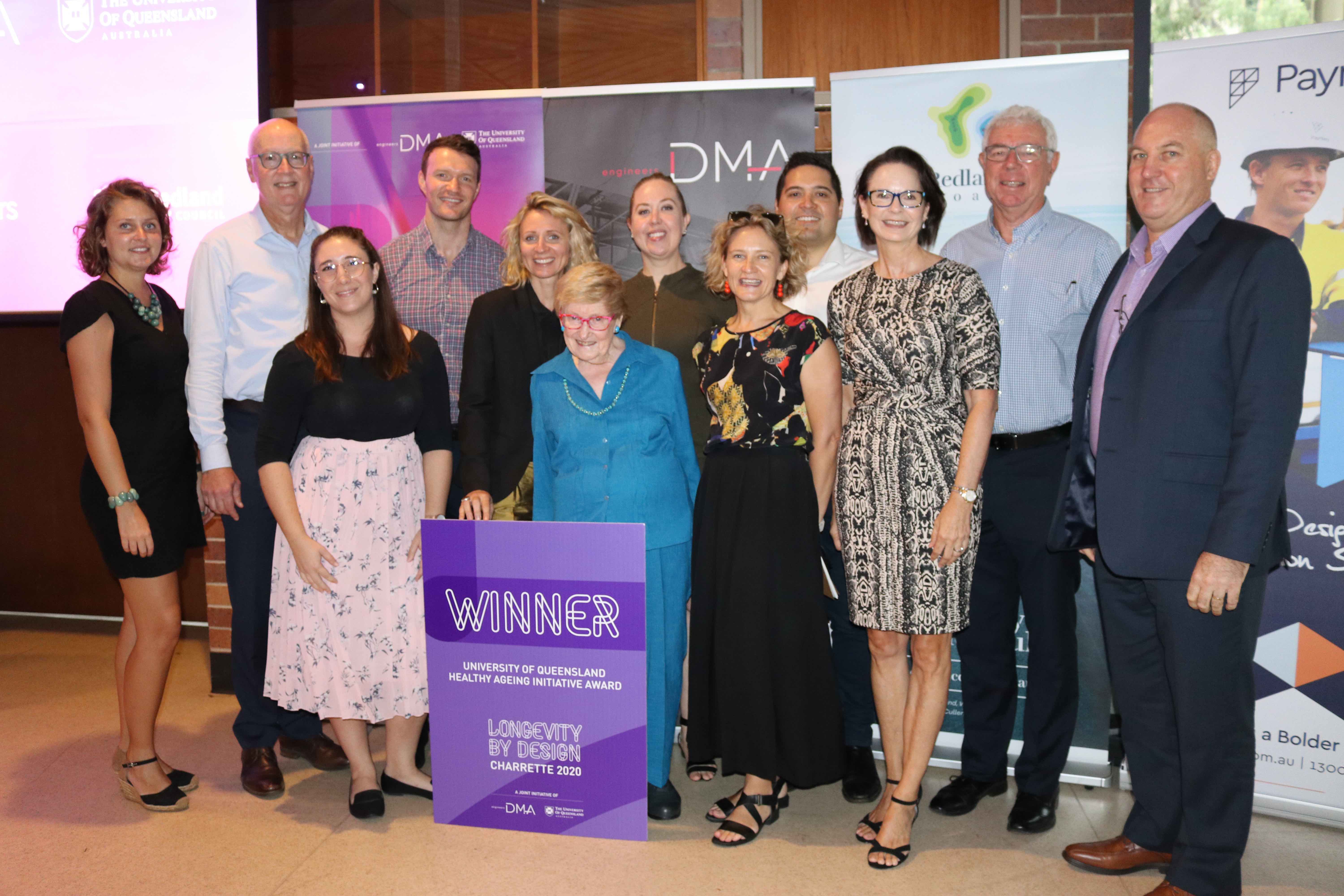 UQ Healthy Ageing Initiative Director, Professor Laurie Buys said the award recognised the value of providing an opportunity for people to challenge their everyday thinking and assumptions about older people.
"Winning this award confirms our view that boundaries need to be pushed and great ideas come from thinking differently," Professor Buys said.
"The charrette encouraged participants to unpick assumptions about people 65+ that are no longer true and to leverage the high expectations individuals have about maintaining an engaged lifestyle as they age."
"One of the significant outcomes of the charrette was a new vision for older Australians in 2050, where the word 'retirement' is redundant and engagement between people of all ages is high."
Facilitated by Dr Rosemary Kennedy, the inaugural sold-out event was held at UQ's St Lucia Campus in February, with teams presenting three weeks later to pitch their ideas to a panel of senior industry and government stakeholders.
Teams chose one of three locations in the Redlands, representing typical middle and outer suburbs and were challenged to transform neighbourhoods to make the most of longevity opportunities.
They used principles of social and physical connectedness with the aim of increasing choices and improving circumstances for people at all stages of life.
Some of the teams' approaches included creating walkable neighbourhoods to reduce distances between homes and services, converting typical house blocks to 'super blocks' where multiple generations live and adopting new finance development models for greater financial and community returns.
Russell Lamb, DMA Engineers Managing Director said one of the most valuable outcomes of the charrette was enabling barriers to be broken down between different disciplines.
"The extent of collaboration, sharing ideas, willingness to put things out there to discuss and kick around, was something we don't see in a normal design and documentation procedure for projects," Mr Lamb said.
"The fact that we have started the vital conversation required to change the future of senior living design with the help of design professionals, academics, senior living organisations and government is very exciting."